High-pressure mud pumps are positive displacement pumps. Simply, they convert mechanical power into hydraulic power. Their mechanical components (power ends) are usually maintained by mechanics. The hydraulic part (fluid end) of the pump, however, is maintained by the drilling crew. As they are a critical part of the drilling rig equipment, it is mandatory that the drilling engineer should have a thorough knowledge of their mechanical and hydraulic components.

Fluid End Assy: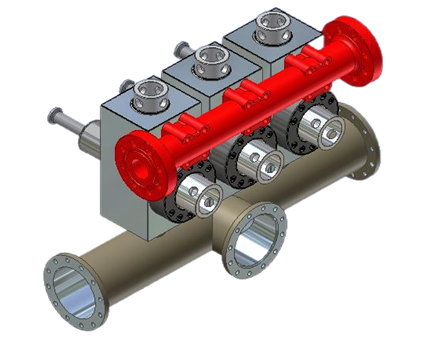 The fluid end includes a pump housing having a plunger bore within which is positioned a reciprocating plunger. Extending upwardly at an incline from the inner end of the plunger bore is a discharge passage. Extending downwardly at an incline from the inner end of the plunger bore is a suction passage. Discharge and suction valves are secured, respectively, within the discharge and suction passages.
Lanbao offers a complete line of interchangeable fluid end modules and accessories for triplex mud pumps. Fluid ends and components are interchangeable to OEM's such as National, Emsco, Gardner Denver, Bomco, Ideco,Weatherford, Drillmec, Ewco, Eweco, Baker, Texma, Mud King, Honghua, RG, RS, GPM, LS-NOW, Wirth and Oilwell. We offer both standard OEM style replacement parts and Two piece "L" Shaped fluid ends. Manufactured to the highest quality, our products offer the best performance and durability, 5000psi & 7500psi available.